Design, Installation, and Maintenance of Structured Cabling Systems
DNA designs, installs, and maintains structured cabling systems based upon the specific needs of your company or business. 
Our structured cabling system designs:
Allow for adds, moves, and service upgrades quickly and easily. 

Allow for growth with minimal incremental cost. 

Accommodate a wide variety of hardware configurations and network topologies.

Integrate with any computer and telephone system to allow for maximum flexibility and interchangeability. 
Installation services include the implementation of any cabling design. Our maintenance services extend to providing support for any of our installations as well as any non-DNA installations through service agreements.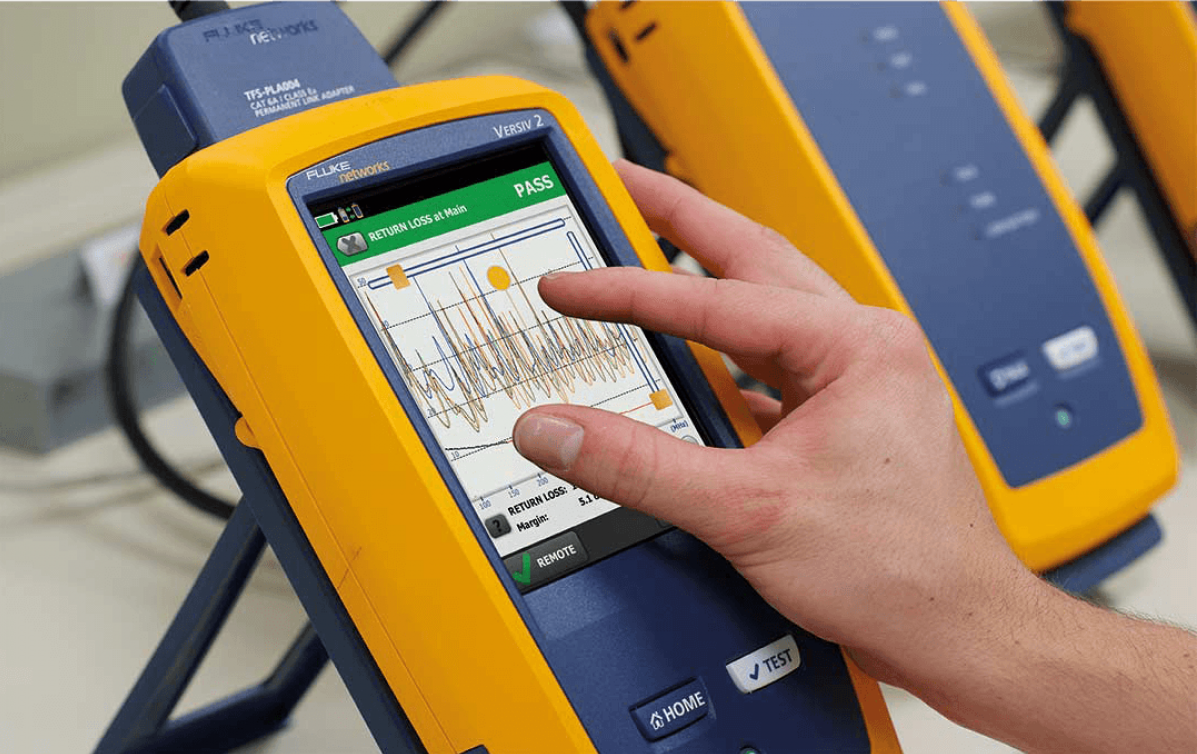 Testing, Certification and Maintenance of Twisted-pair and Coaxial Systems
DNA provides a complete testing and documentation package for twisted-pair and coaxial cable systems. All cables installed by Data Network Associates will meet or exceed the technical specifications and performance characteristics set forth in the TIA/EIA-568 standards. We have the capacity to test any pre-existing UTP installations to any level on the market today with our Fluke DSX-5000s.
Graphic Documentation of Network and Cabling Systems
Network and cabling system documentation is generated graphically using Adobe Acrobat. We can produce professional full color illustrations and documentation. These services include logical network design, cable routing, equipment racks, and patch panel systems layout for any network.
Management of and Consultations on Communications Projects
The senior staff at DNA bring an average of 25 years of project management and technical consulting experience to your communications projects. We are highly skilled professionals trained in all aspects of physical layer network installation.

Project consultation services include: 
Request for Proposal (RFP) creation. 

Contractor selection and recommendation. 

On-site technical assistance. 

On-site contractor supervision and inspection.
Upgrades of Existing Cabling Systems
DNA specializes in migrating enterprise wide networks off of legacy cabling systems to new industry standard high speed cabling systems. We can coordinate a smooth transition and minimize the downtime associated with such large scale transitions.
Testing, Certification and Maintenance of Fiber-Optic Cabling Systems
DNA provides a complete testing and documentation package for singlemode and multimode Fiber-optic cabling. Test results are generated with a Fluke DSX-5000 configured for power meter testing as well as OTDR traces.  Power loss (dB loss) is measured bi-directionally with the power meters and is documented on a strand-by-strand basis. The OTDR traces provide a graphical baseline with which to compare the quality and consistency of the fibers. All results are presented in a PDF document for easy reference.
If you have questions about our services or would like to discuss a specific project, please contact us here.